Dr. Rana Mehr attended college at University of California Los Angeles and earned her Bachelor's Degree in Neuroscience with honors. Dr. Mehr then received her Doctorate of Dental Surgery from the University of California Los Angeles. Her passion for orthodontics led her to the University of Connecticut, where she served as the chief resident and earned a Postdoctoral Certificate in Orthodontics and a Master of Dental Science. Then, she earned her American Board of Orthodontics certification. She is among a very small group of orthodontists in the world to earn this additional degree of recognized excellence.
Dr. Mehr is a board-certified orthodontist, a Diplomate of the American Board of Orthodontists. She is dedicated to providing the best orthodontic care to her patients. Dr. Mehr is warm-hearted, caring, and attentive. She believes in the importance of staying current with cutting-edge technology and she spends countless hours in continuing education and at study clubs.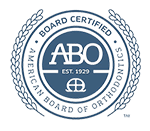 In addition to clinical practice, Dr. Mehr has been heavily involved in dental and orthodontics research. Her work has been published in peer-reviewed journals, and she has presented her research at the California Dental Association and 87th International Association for Dental Research in Miami, FL. She won the first place prize at the California Dental Association scientific research competition. She was acknowledged for her immunohistochemical studies in the "HIV–1 Antigens in Neurons of Cocaine-Abusing Patients" article.
Publications
Uribe F, Mehr R, Mathur A, Janakiraman N, Allareddy V. Failure rates of mini-implants placed in the infrazygomatic region. Prog Orthod. 2015;16:31.
Rauth RJ, Potter KS, Ngan AY, Saad DM, Mehr R, Luong VQ, Schuetter VL, Miklus VG, Chang P, Paine ML, Lacruz RS, Snead ML, White SN. Dental enamel: genes define biomechanics. J Calif Dent Assoc. 2009 Dec;37(12):863-8.
Uribe F, Davoody L, Mehr R, Jayaratne Y, Almas K, Sobue T, Allareddy V, Nanda R. Efficiency of piezotome-corticision assisted orthodontics in alleviating mandibular anterior crowding — a randomized clinical trial. Eur J Orthod. 2017 Mar 20.
Memberships
Dr. Mehr enjoys all the activities that the greater Houston area has to offer such as swimming, running, spending time with her family and friends, and attending cultural events. She enjoys reading books, traveling and learning about different cultures.