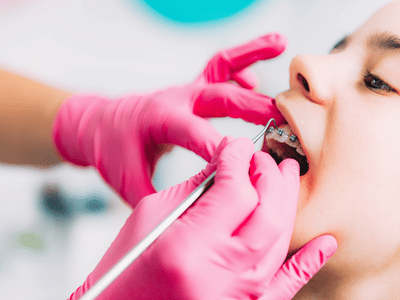 The first week with new braces can be tough. You may experience some pain and discomfort as your teeth and mouth adjust to the new hardware. It's important to take it easy and give yourself time to adjust. Here are a few tips from Dr. Amir Davoody, Dr. Rana Mehr, and Dr. Panagiotis Kyteas at Greater Houston Orthodontics, to get you through the first week with braces:


How Long Do Braces Hurt?
The good news is that any pain you feel isn't from your braces themselves. Essentially, when your teeth move around, you'll experience some mild soreness that will soon go away. Getting braces, tightening, and adjustments typically trigger soreness and any pain, but these feelings shouldn't last longer than a day or two. One easy way to help with these is to take pain relievers right before heading to the orthodontist. This way, they'll kick in right as any soreness begins.   

Eating with Braces
The first week with braces means sensitive teeth and gums, so we recommend soft foods and drinks for the first few days. Avoid hard and crunchy foods. Stick to foods that are easy to chew.
Oatmeal

Scrambled Eggs

Yogurt

Fruit Smoothies

Soft Fruits (Bite-Size!)

Guacamole

Hummus

Tofu

Noodles

Soft Bread

Soft Cheeses

Applesauce

Grits

Couscous

Rice

Pancakes
Most of all, be patient. It may take a little time to get used to your new braces, but eventually you'll adjust and be able to eat and speak normally.  
What to Expect When Getting Braces
We get lots of questions about the process of getting braces and how to get started. Here are some of the FAQs patients have, but if you have a specific question you don't see the answer to, please call the office, we're always happy to help.
How to get braces? 
It's easy and quick to call up our office and schedule a free consultation! After an evaluation, the orthodontist will present a treatment plan and timeline customized to your case.
How long does it take to get braces?
The time it takes to get braces depends on a case-by-case evaluation by an experienced and expert orthodontist. An appointment where braces are installed typically takes about an hour.
Who can get braces?
Anybody can get braces. Early treatment and adult treatment are also possibilities, so whenever you decide to improve your smile, we're here to help! The youngest age we typically see patients is seven, and many patients see an orthodontist beginning in grade school. Not only is a straight smile a confidence booster, but it can also vastly improve your health. Orthodontics is beneficial to jaw and gum health, and even can lower the risk of disease in other areas of the body. 

Different Types of Braces
There are many different types of braces that can be used to correct dental problems. The most common type of braces is metal braces, which are made of stainless steel or titanium. Clear ceramic braces are made of a material that is less visible than metal braces. Lingual braces are also a great discreet option where brackets are placed on the back of the teeth instead of the front. Invisalign braces are made of clear plastic and are virtually invisible. They are also removable, which makes them more comfortable to wear and easier to keep clean.