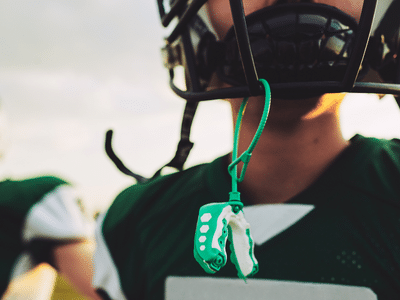 We've all heard horror stories of sports injuries, even worse witnessed one ourselves. After getting braces, you may be wondering 'Can I play sports with braces?' The best way to protect your mouth from a painful fate is to invest in a mouthguard before taking to the court. Mouthguards protect not only your teeth but the soft tissue of your mouth from injury as you play.  Getting braces doesn't mean giving up the sports you love! Luckily, braces will not keep you from any sport or physical activity. However, the price you pay for a beautiful smile is taking a little extra care of your mouth while in treatment. Keep reading to uncover the significant role that mouthguards play in protecting your oral health and overall well-being from Orthodontists Dr. Amir Davoody, Dr. Rana Mehr, Dr. Thomais Ioannou, and Dr. Panagiotis Kyteas at Greater Houston Orthodontics.
In This Post, We'll Cover:
Why should I wear a mouthguard?

Do Braces put you at risk for a sports injury?

What type of mouth guard should I buy?