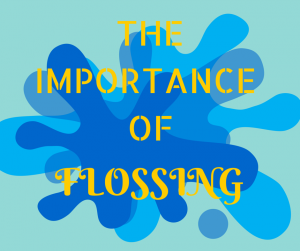 Flossing is an important step in everyone's oral hygiene routine and the following are just a few reasons why.
Most of the time adults brush their teeth out of habit but they skip flossing. According to National Smile Month, only 21% of adults use dental floss regularly and one in three adults have never even flossed their teeth. The benefits of flossing make it an important step in your oral hygiene routine especially if you have braces or a built-in retainer.
Flossing aids in the removal of plaque which is a cavity causing bacteria. When tooth enamel, the protective outer layer of the tooth, decays and is destroyed a cavity then forms. A cavity is a permanently damaged part of the tooth that causes toothaches and sensitivity. In order to repair the tooth it must be filled by a dentist.
Flossing can reduce the risk of gum disease. One of the most commonly known forms of gum disease is gingivitis which forms when bacteria builds up in the plaque and causes the gums to be inflamed. Brushing only removes some of the plaque on the tooth. Plaque buildup in between the teeth and near the gum is more easily removed by flossing.
Prolonged neglect of your oral hygiene routine can ultimately result in the loss of your teeth. This can be a very emotional and expensive experience. After the loss of your teeth, two of the most popular options are to be fitted for dentures or have dental implants – both of which can cost thousands of dollars.
At Greater Houston Orthodontics we encourage everyone to floss so that you can have a healthy and happy smile!